Manifesto
Over the next five years we'd like to present you a series under the title MANIFESTO.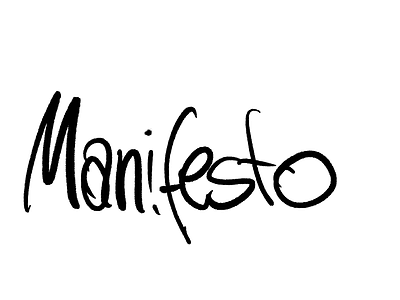 We ask both young and experienced theatre makers to think out loud about why and how to make Music Theatre and to show us their work in progress. Each artistic team in this series will leave us a production and a manifesto, on which we can build further.
Many manifestos have been written in the course of theatre history. Writers, directors, composers who wanted to approach theatre practice in a radically different way. Gluck, Wagner, Offenbach, Brecht, to name just a few. Similarity in all those manifestos is that they constantly search for the crux – the core – the nucleus – the quintessence of the art form in the society of their days. In socially calm times, theatre must dare to provoke; in socially turbulent times, such as ours, theatre must dare to restore.
But restoration isn't just sitting back and doing what you've always done. Restoration includes redefining the aesthetics and redeveloping the way to get there. "Return to the past and it will bring progress", Giuseppe Verdi said.
How to make an old structure suitable for the future, while preserving the beauty of times gone by. That's the mission of MANIFESTO. In the MANIFESTO series, the Volksoper, in close collaboration with high-profile artistic teams, embarks on a quest for the past, present and future of Music Theatre.
Not only the content, but also the production process is intensively questioned, looking for an even better and more flexible functionality of our Opera House.
MANIFESTO moves us and our makers to seek the quintessences of the Music Theatre genre as an art form and as a social barometer.
MANIFESTO moves us to observe today's world and make those observations manifest.
MANIFESTO moves us to think about the future of Music Theatre in a sustainable, open and free world.
MANIFESTO moves us to let go of existing routines, not to accept what IS already possible, but to see what CAN BE possible.
This first season we invite Maurice Lenhard and his team to develop a Manifesto production of Die Dreigroschenoper.